Ortom: Buhari Making Grazing Routes, Reserves Condition For Peace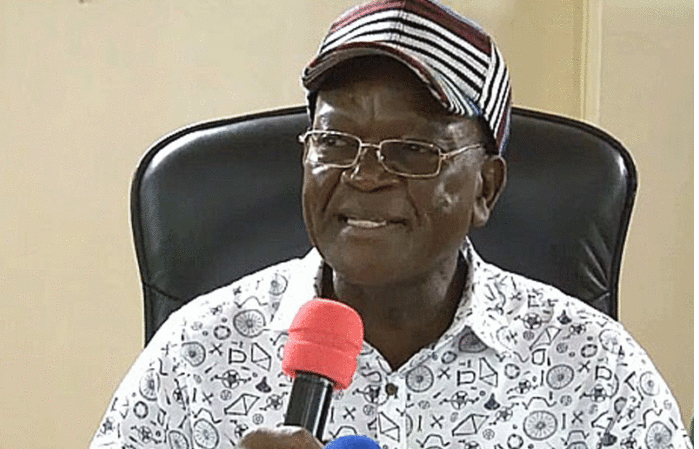 Alleges underground plot to make way for herdsmen
Says president's bad governance anchored in nepotism
Insists Benue will reject grazing routes
The Benue State Governor, Samuel Ortom, has said the dispositions of President Muhammadu Buhari, were beginning to confirm insinuations that he might have resolved to make the establishment of grazing reserves and routes the preconditions for peace in parts of the north, where herders/farmers crises were prevalent.
Ortom, who spoke on national security issues on Tuesday in Makurdi, the state capital, also alleged that there were underground plots to make way for herdsmen, a development he further said had begun to embolden criminal herders.
The governor, who claimed Buhari's governance was bad because it was anchored on nepotism, however, said Benue would not allow grazing routes and reserves unless the entire people of the state, including himself were first killed by the Federal Government.
From my previous discussions with the president, it is obvious he believes for peace to reign, grazing routes and reserves must be opened for herdsmen. Mr. President has a set mind towards achieving this, because previously, after holding meetings with relevant stakeholders across the country, the NEC had advised that the best way to stamp out the farmers/herders crisis was to support and implement ranching. It is really sad that the President would throw to the dustbin the report and recommendations of the NEC.
Here in Benue, there has never been a gazetted route or reserve. The federal government is only on a mission to impose this unlawful structures on us.
Even most of the northern states have agreed that open grazing is un-Islamic and as Christians, open grazing has been frowned at in the Bible in the book of Exodus.
Lands have not increased, but population has, therefore, a decrease in land availability has rendered the grazing route policy an inhumane policy. Rather, there has even been a decrease due to the ceding of land to neighboring nations,
he said.
Ortom, who said it was disappointing for President Buhari to declare a review of Grazing Routes and Reserves, was also concerned that the president might have been misquoted.
His words:
With the array of responsible and learned people around Mr. President, it is quite disappointing to hear the president come out to declare a review of grazing routes and reserves. I want to believe he was wrongly quoted, because as a man, who has an Attorney General and very many lawyers around, he'd have been advised better.
According to Ortom, Buhari's actions to approve N6bn for ranching in Katsina State but still went ahead to open Grazing Routes and Reserves in other states beat the tenets of fair play and justice.
He said,
Mr. President himself a farmer, believes in ranching, which is why he recently approved over N6bn to Katsina State to pilot the ranching policy, a cause which Benue as a state has championed for long.
It is, therefore, questionable why he would choose to open ranches in Katsina and open grazing routes and reserves in other states. His actions beat the tenets of fair play and justice.He is the president of Nigeria, so, it is wrong for him to restrict himself to Katsina State.
The governor pressed further that he was not at war with the Fulani, because there were good Fulani people, some of whom were his good friends.
I am not at war with the Fulani. Of course, there are good Fulani people, some of whom are my very good friends. It will amount to logical fallacy if I say all Fulani are bad. It is just a case of bad governance anchored on nepotism on the part of Mr. President.
I have told the president that if anyone tells him that he is ruling the country according to the provisions of the constitution, they are lying to him; they are only being sycophants and mediocres. For saying the truth to power, I've been insulted by these crop, and even blocked from seeing the president, because for every second I spend with the president, I only get to tell him the truth.
The body language of the president has emboldened Miyetti Allah in executing very heinous crimes in this country. It is so bad that after orchestrating and executing terror, the Miyetti Allah now move in Abuja with long convoys and heavy security paid with tax payers money.
As long as I still hold the mandate of my people, the people that voted me to be their governor, the president or anybody at all would have to kill me first before grabbing any land to use for grazing routes or reserves.
Since my assumption in 2015, I confiscated weapons collected from thugs and criminals, so it is quite unfortunate and unpresidential for the presidency to come out and churn out lies that I am arming militia or private guards. I am not a fan of thugs or the militia, as it is now evident in Benue. I believe in the rule of law,
he said.
On the privatisation of government enterprises, Ortom said,
I will be hosting a stakeholders' meeting soon, where we'll discuss the issue of privatisation, which seems to be the new blackmail on me by the opposition.
Justin Nwosu is the founder and publisher of Flavision. His core interest is in writing unbiased news about Nigeria in particular and Africa in general. He's a strong adherent of investigative journalism, with a bent on exposing corruption, abuse of power and societal ills.