Ultimate Love Update: Kissing, Touching, Staring Into Each Other's Eyes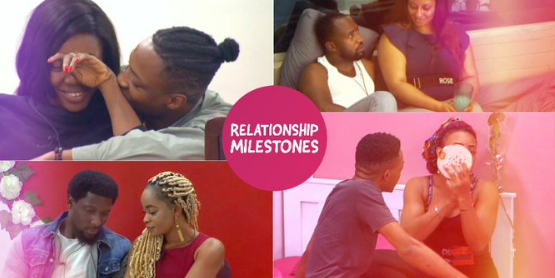 Today at the Love Pad has been that of kissing, touching or just staring into each other's eyes in total silence. Everyday in Ultimate Love reality TV show, we see more signs that the love displayed by the couples is undeniably real.
Kissing, touching or just staring into each other's eyes in total silence… Everyday we're seeing more signs that the love is MAD real! #UltimateLoveNGhttps://t.co/8rpCMnenVv

— Ultimate Love (@ultimateloveng) February 24, 2020
Our Couples grow fonder of each other with every passing day and we're already noticing some classic hallmarks of lasting love.
Two weeks down and we're slowly wading into deeper waters as our Love Guests become more vulnerable with each other. The final pairings are done too and with vote lines opening tomorrow (Tuesday) at 8pm (WAT) / 9pm (CAT), we're psyched to see how these love stories play out. There've been so many telling exchanges and intimate moments lately – Proof that this is real.
FORGIVING ONE ANOTHER AFTER AN INTENSE ARGUMENT:
Bolar got caught in the centre of a pretty nasty fight yesterday. Arnold (having told Aunty he felt Bolanle spoke over him sometimes) finally mustered the courage to address something he hasn't been happy with for a while. He asked her sternly to listen and not "raise her voice" before calmly expressing his frustration with her gossiping and sometimes being confrontational with the other Love Guests. He said he felt embarrassed when she aggressed and this obviously cut Bolanle deep.
That said, she sat quietly and listened before responding softly, "I'm sorry. I won't embarrass you again," and heading out to take a shower. Granted this response was somewhat biting, but this morning, they are laughing and holding each other close once again. It's proof that good communication (even when it comes to touchy issues) builds a relationship. In the same vein, when uncomfortable topics are discussed in a mature and civil manner, there's no bad blood. Iykeresa had a smiliar moment yesterday. Iyke managed to express his concern about Theresa being cold and distant in a mature and civil manner before offering to give her time to work through it. Exemplary for people who are only in their early 20s.
INTENSE DEBATES ABOUT THE SILLIEST THINGS:
This morning we saw PreshDavid go back and forth for almost 10 minutes as they shared breakfast in the lounge. The issue in question? Whether the image on their plate was one of a bee or a fly and furthermore, whether flies are finer than bees. Presh actually went with flies with David emphatically calling them "disgusting".
Now, watching this unfold you might think it's pointless banter. However, there's no greater testament to how deeply someone cares than them engaging you on even the silliest matters because your company means the world to them. It also feels so good to not get judged harshly when we have the odd brain fart or a weird perspective on things.
MOMENTS OF QUIET INTIMACY:
Touch is, of course, a major piece of the puzzle and we're seeing a pattern where our Love Guests are now getting physically close after several days of establishing a mental connection. While some Couples are already full-on kissing like Micherry and Iykeresa, there's also something to be said about the power of a gentle carress.
All the above shows a person finally feels safe and vulnerable enough to not only explore but give permission for the other to explore. In the same vein, being comfortable enough to just lie together in silence proves the anxieties of "talking a good game" are long past. We think all the Couples have made massive strides in this regard after being quite shy initially.
Source: Africa Magic
Justin Nwosu is the founder and publisher of Flavision. His core interest is in writing unbiased news about Nigeria in particular and Africa in general. He's a strong adherent of investigative journalism, with a bent on exposing corruption, abuse of power and societal ills.